How much is Chuck going to save me?
Answer 4 simple questions to see how much money Chuck can save you.
How many hearing aids do you use?
How frequently do you change your hearing aid batteries?
How much do you pay per pack of hearing aid batteries?
How many hearing aid batteries are in one pack?
Annual Savings:
$0
Email us to get a quote.
Sorry! We can't beat the price, but we can beat the convenience.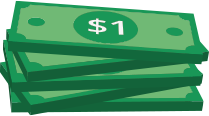 SIGN UP NOW
---
Testimonials
See what others have to say:
" I always forget to recharge my batteries, so I stopped using them. Power One batteries from 5 Buck Chuck last me almost a week. "

John from Massachusetts

" I didn't even realize that I was spending almost $200 a year on hearing aid batteries. That cost just went down by more than half and the batteries show up at my doorstep when I need them. "

Bob from Texas

" The price is great and this service is exactly what I wanted. "

Greg from Ohio
" I am not very tech-savvy but when I called the 5 Buck Chuck Club, they signed me up within minutes. "

Louise from Colorado

" I'm in a wheelchair and getting out of the house is a real challenge for me. Now, I just need to open my mailbox and I can hear again. "

Steve from Minneapolis

" I am not a fan of subscription services, but my son signed me up and I love it. It's so simple. "

Betty from Florida
Frequently Asked Questions
You're still not sure if you want to do this? Alright, what are your concerns?
1. How long will my batteries last?

They will last for up to 3 years if you keep them in the package and don't use them. But, we know that's not what you're trying to do. Hearing aid batteries typically last about 5 to 7 days, depending on usage. If you use a lot of Bluetooth streaming from your phone to your hearing devices, you may have to replace your batteries sooner. Users that make a lot of phone calls or listen to music through their hearing aids may need to replace their batteries every 2 to 3 days.

2. Are your batteries any good?

Our hearing aid batteries are mercury-free Power One brand zinc air batteries. They're manufactured in the world's largest and most up-to-date hearing aid battery plant in Ellwangen, Germany. We provide eco-friendly battery technology, produced under clean room conditions, with an Enhanced Safety & Performance housing coating.

3. What if my batteries don't seem to work?

We have never heard of a case where our batteries arrived drained. To activate the battery, remove the protective tab from its back and let it sit for a few minutes before putting it into your hearing aid. Removing the tab from the back lets the metal surface come in contact with air, which starts the chemical reaction to release the stored energy and power your hearing aids.
4. What's inside your batteries?

Here are the specifications of our mercury-free zinc air batteries:

| | | | | |
| --- | --- | --- | --- | --- |
| Size | 10 | 312 | 13 | 675 |
| Typical Capacity (mAh) | 100* | 180** | 310** | 650*** |
| Diameter (mm) | 5.8 | 7.9 | 7.9 | 11.6 |
| Height (g) | 3.6 | 3.6 | 5.4 | 5.4 |
| Weight (g) | 0.3 | 0.58 | 0.83 | 1.85 |

*3000 Ohms 12 h/day to 1.1 V at 21°C / 60% r.h
**1500 Ohms 12 h/day to 1.1 V at 21°C / 60% r.h.
***620 Ohms 12 h/day to 1.1 V at 21°C / 60% r.h.

5. What if I need more batteries, have too many, or need a different size?

Simply find one of your recent order confirmation emails and click on the button to manage your subscription. This will take you to our customer portal, where you can skip a shipment, change the shipping frequency, or swap to a different battery size. If you're having any issues with making the needed adjustments, simply send us an email to batteries@otojoy.com and we'll make sure to take care of you.
6. How do I cancel my membership?

We'd be sorry to see you go. If for whatever reason you'd like to cancel your subscription, we won't make it difficult for you. Simply find one of your recent order confirmation emails and click on the link to manage your subscription. Once inside the customer portal, click on the "Edit" link for your subscription and find the button to cancel your subscription at the bottom of the page.

We will cancel your subscription immediately and you won't be billed for any future orders. With the same link, you can resubscribe at any time.

7. Is Chuck single and how can I meet him?

We're sorry to disappoint you. Chuck is happily married. But you can meet him! Simply schedule an appointment for a free hearing test with Chuck. You can find more information on his website here.

8. How should hearing aid batteries be stored?

Ideally, you don't need to store your hearing aid batteries at all. We will take care of that for you and send you fresh hearing aid batteries each month. Any unused batteries should be stored in a dry and cool location.

In any case, please don't store your hearing aid batteries in the refrigerator. Zinc air batteries have holes in the top and if you store them in the refrigerator, the holes will allow moisture to get into the battery. This moisture can cause a premature failure of the battery. If you want to preserve the life of your hearing aid batteries, keep them out of the refrigerator.
9. How do I dispose of a used hearing aid battery? Are they recyclable?

Our zinc air hearing aid batteries are classified as non-hazardous waste and can be easily disposed. However, with an eye on our environment, we would love to receive the batteries back from you to recycle them. Simply put them in an envelope, put a stamp on it, and send them to OTOjOY, 221 E Indianola Ave, Phoenix, AZ 85012. If you don't want to send them back, we recommend bringing the batteries to a common local collecting point to make sure they can be recycled.

10. How are mercury-free batteries different from standard batteries? How do they compare in performance?

The lifetime for mercury-free zinc air and standard batteries is identical. Mercury-free cells, however, are classified non-hazardous, because there is no mercury added, making these batteries more environmentally friendly. With its high energy density and almost flat drain curve, zinc air batteries also provide perfect characteristics for hearing aids. They are the ideal power supply for hearing aids, including those with digital functionality.

11. What should I do if a hearing aid battery is swallowed?

Hearing aid batteries must be stored out of the reach of small children and pets to prevent them from swallowing a battery. If batteries are ingested, call the 24-hour Button Battery Ingestion Hotline at (202) 625-3333, provide them with the battery type, and seek medical help immediately.

For the 5 Buck Chuck Club batteries see below:

PR312 – 1.45 V – Zinc-Air Batteries
PR675 – 1.45 V – Zinc-Air Batteries
PR10 – 1.45 V – Zinc-Air Batteries
PR13 – 1.45 V – Zinc-Air Batteries